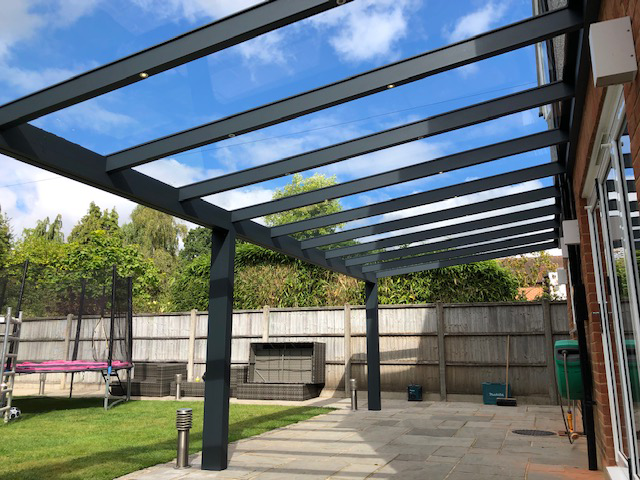 Modern Verandas
Our latest project involved updating a home in Farnborough with a brand new veranda extension. By investing in a new verandah, this property has created a space they can use for a variety of purposes. Using market leading designs and the latest materials, this home in Farnborough has truly enhanced their garden space with this remarkable aluminium verandah.
Supplied to us by AluK, the frame of the garden veranda is inherently robust, making it an incredibly durable home improvement. Our clients wanted a garden room extension that offered incredible durability that would keep their home, and new outdoor living area protected year after year. They needn't worry about harsher weather climates damaging their aluminium veranda, as the structure is resistant against warping, rotting, cracking or fading. To keep the aluminium frame in Farnborough looking as good as new, our clients simply need to wipe the profile down with a damp cloth.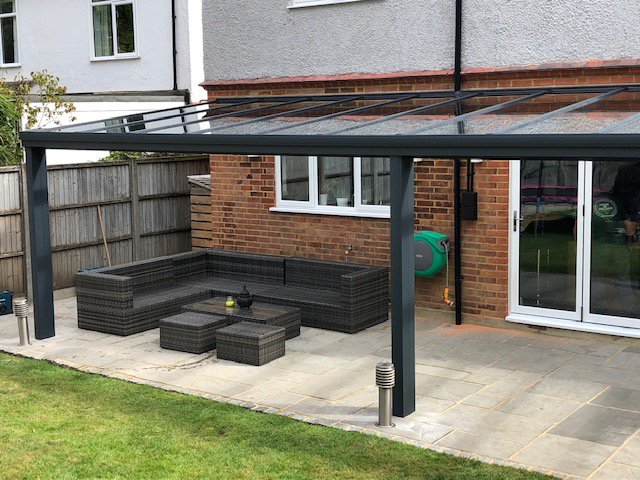 Weatherproofed Garden Room Extensions
The modern design means our clients can enjoy their new garden veranda in Farnborough without the worry of the unpredictable British weather affecting the aesthetic or performance of their new garden room. The verandah design features a glazed roof, allowing the clients to use their new outdoor living space without the worry of rain or other climates stopping them from spending time outdoors.
Not only this, but the sleek design allows guttering to be discreetly incorporated into the garden room extension. This creates a minimalistic profile that offers exceptional benefits without compromising on the impressive aesthetics.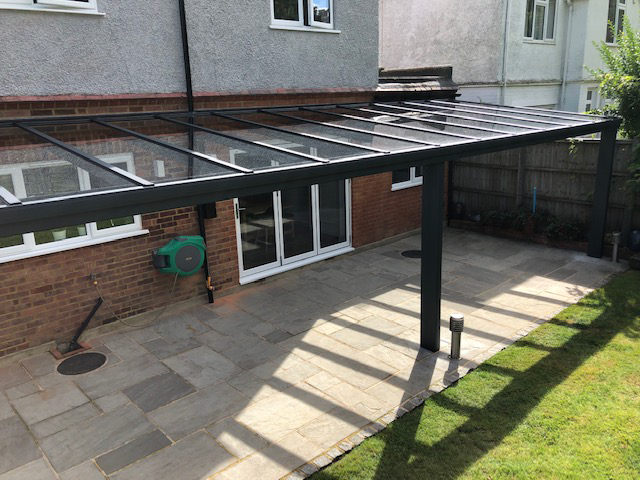 Bespoke Designs
On this project, our clients wanted to utilise their garden space, and create an area that allowed them to use the area for a variety of purposes. We sat down with them and helped design an outdoor verandah that was perfectly tailored to suit their needs and suit the available space they had. Our clients had a great expanse of land available, so we were able to create a bespoke veranda that gave them an impressive living space, whilst still allowing them to have a reasonable sized garden area.
At Hart Windows, we have an expert team that will work with you during every step of your project. We worked closely with our clients, listening to their needs and helping them bring their double glazed veranda designs to life. So if you're after a modern outdoor living space, then you can trust us, and our expert team for high quality and high performance garden verandas.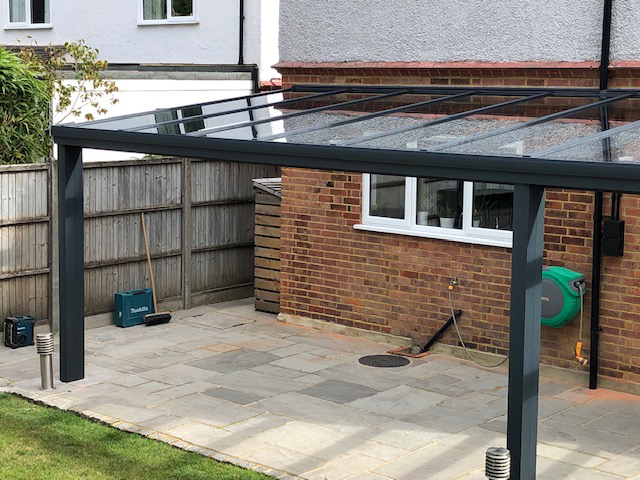 Verandah Costs, Farnborough
If you have been inspired by our latest garden project in Farnborough, then get in touch with Hart Windows today. We have a range of verandah styles you can choose from, so you can be sure to find a suitable outdoor living space that is perfectly tailored to you. All of our verandah styles are competitively priced and can suit a variety of budgets. Give us a call on 01252 623 404 or send our friendly team your queries via our online contact form.