Our energy efficient and technically advanced UPVC Liniar patio doors offer durability as well as functionality and style.
Attractive and practical, our UPVC Liniar patio doors allow you to benefit from quality aesthetics as well as increased light and ease of application.

Slim Sightlines
Benefit from an increased glass area with our slim sightline patio doors. Our UPVC Liniar patio door provide you with greater views of the outside as well as higher levels of natural light.
Strong & Secure
Our Liniar patio doors are incredibly strong and secure. Robust, our patio doors are built to offer an outstanding long term performance.
We offer high security locking systems as standard and also offer a choice of additional upgrades for those wanting maximum security.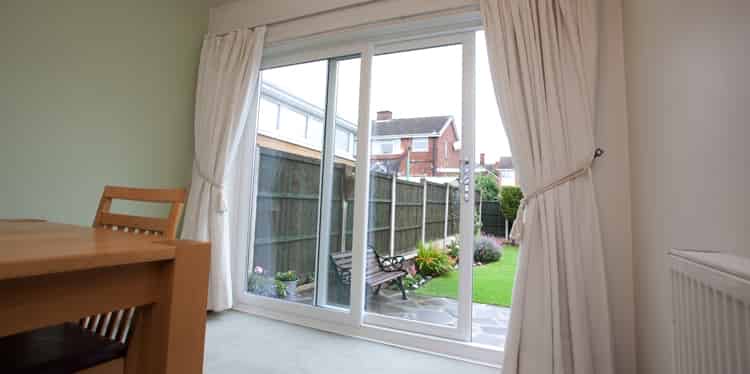 Practical
Operating on a multi-wheeled 'air-glide' system, our Liniar patio doors are expertly engineered. They provide ease of access and provide a smooth transition when opening.
Our standard threshold is designed to avert scuff marks so you can benefit from long lasting functionality. We also offer low threshold options so if wheel chair access or ramp options are required, it isn't a problem.
Energy Efficiency
Our UPVC Liniar patio doors are manufactured using a 5 chamber UPVC profile which provides optimal efficiency. You can expect excellent levels of thermal insulation. BFRC energy rated, you know you are buying quality windows.


10 Year Guarantee
When you choose our UPVC Liniar patio doors you benefit from a 10 year guarantee which protects you against warping, cracking and discolouration.

Contact Us
Choose our UPVC Liniar patio doors. Patio doors are a wonderful way of gaining extra sunlight and access to your home.
Our low maintenance UPVC patio doors are highly durable, allowing you to benefit from a robust and sturdy entrance point. For more information regarding our UPVC Liniar patio doors contact us today on:01252 623 404.